-- Welcome to the True Tail Wiki! --
This is a wiki dedicated to True Tail, an upcoming animated series produced by Skynamic Studios. There's a lot to do around here, so feel free to pitch in! There's always room for another helping paw- er, hand.
-- Synopsis --
"Our tale begins in the medieval land of
SplitPaw
, an enchanted fantasy Kingdom full of magic, where one of the greatest professions a young child can strive for is to become a hero!
We follow the adventures of Caleb, a young kitten who wants to be the greatest hero SplitPaw has ever known. Luckily for him and his friends, there is True Tail, a school for heroes-in-training. Within the school's mighty walls, a young hero can learn how to save a damsel, practice their swordsmanship, and discover what it takes to harness the magical energy permeating throughout the land. Together with Melody, Viktor Silvertod and Doh-Li, Caleb is going to discover the hero he was destined to be!"
-- Contributing --
Are we missing something? Help us out!
Type in the title of your article, then click the button!
-- Featured Article --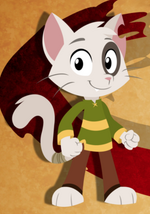 Caleb is a male kitten and the main protagonist of True Tail.
Read More...
-- Poll --
Who is your favorite main character?
Ad blocker interference detected!
Wikia is a free-to-use site that makes money from advertising. We have a modified experience for viewers using ad blockers

Wikia is not accessible if you've made further modifications. Remove the custom ad blocker rule(s) and the page will load as expected.